Welcome to Our Kitchen | Fresh Dog Food
Emma Lou's Kitchen is Homemade Fresh Dog Food
Our fresh dog food formulas are made from scratch, are human-grade, all-natural and with no fillers or preservatives. Our formulas are completely balanced according to the AAFCO's protocols and standards. We use locally sourced produce here in the Pacific Northwest. Our dog food is made fresh in our own commercial kitchen, packaged in vacuum sealed pouches and then frozen. Our fresh dog food formulas have been reviewed by both the Dog Food Advisor® and The Truth About Pet Food® and were given their highest rating.
What makes Emma Lou's unlike any other:

We buy our produce locally

We make our fresh dog food in small batches and once everything has been cooked and added, it is packaged and frozen.

we are 100% family owned

We pressure cook our food to ensure retained nutrients.

Our formulas are all made in house by our own cooks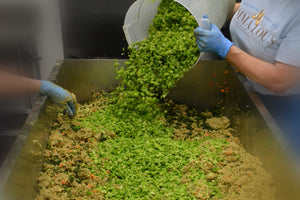 Fueling Healthier Dogs For over 14 years.
We started Emma Lou's 14 years ago and still have senior dogs that began with us as puppies!
Because of our longevity we don't need to depend on
shady dog trials to test our effectiveness, we have thousands of dogs that show our success.
SHOP NOW
Made With Love, Not Manufactured
Not all meat is created equal. Most fresh dog food companies claim to offer real meat but use a lot of ground meat vs cuts of muscle meat. While ground meat is a good cut of protein it's not the best you can give your pup. At Emma Lou's 75% of all our formulas are made with only cuts of muscle meat.
All of our fresh dog food is made in-house, no co-packers here. We find muscle meat only and hand-cut it ourselves because we've found that machines fail to find fat and other unnecessary parts of the meat that our human hands and eyes see.
It's like the closest thing to your dog having its own personal chef.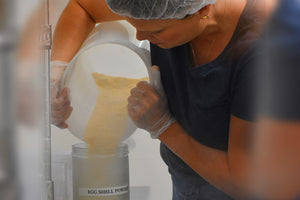 Real Nutrition, Not Synthetic "Fortifiers"
The majority of our vitamins and minerals are from the actual fresh food we put in, not synthetic vitamins thrown in as an afterthought so we can use the word "fortified" on our packaging. On top of our bio-available vitamins, we offer "functional food" that add in even more nutrition (think
flax, kelp, and eggshell powder.)