We Believe A Healthier & Longer Life For Your Dog Begins in Their Bowl
We believe that prevention is key and with that a healthy diet is essential to your dog's health. We believe every dog deserves to eat real fresh made dog food. Food that is filled with nutrients such as leafy greens, quinoa, freshly ground flax seed, fresh locally grown produce, fresh USDA animal proteins and more. We believe that its an investment in your dog's health and the best way to keep them out of the Veterinarian's office.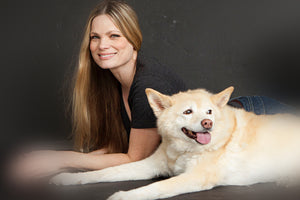 The Story of Kristen and Emma…
Emma Lou's Kitchen is truly a labor of love. Shortly after Kristen Zang adopted her puppy Emma from a local shelter, she received jarring news. Emma was diagnosed with Distemper, an incurable deadly disease that has a mortality rate of 80% for puppies. Determined to save Emma, Kristen set out to learn everything she could about dog nutrition and the pet food industry. This was around the same time that many of the pet food companies were issuing recalls.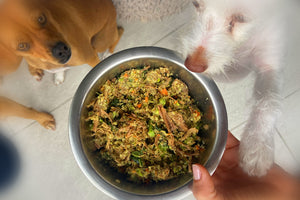 Transformation Through Diet
Zang consulted veterinarians, nutritionists and other specialists while simultaneously studying canine nutrition. She learned that most of what was being sold at pet stores was not healthy for them.
Through her research, Kristen developed fresh made dog food (which is actually people food) that is compliant with the AAFCO's recommended dietary balance among proteins, vitamins, fats and micronutrients. She began feeding Emma with it.

Thanks to the health benefits of Kristen's creation, all signs of Distemper quickly disappeared. Emma Lou lived to the ripe old age of 17!
Sharing Our Love And Success
After experiencing the joy of Emma's restoration to excellent health, Kristen wanted to share these benefits with other dog owners. What began as a small operation out of her home in 2007, is now a rapidly growing fresh made dog food company serving many satisfied and steadily returning customers. She now works with an incredible team in a commercial kitchen to accommodate the volume of food Emma Lou's Kitchen is producing, and yet maintains strict quality control by cooking everything from scratch and by hand.

Kristen hopes to continue to grow Emma Lou's Kitchen exponentially and be able to share the love with as many dogs as possible.